Information about the local area around La Busaneth in the Aquitaine, southwest France
Immediate Area
Walking/Hiking - La Busaneth is surrounded by vineyards, fields and forests, all beckoning for the outdoor enthusiast to explore. As in the rest of France, there are rural pathways between every vineyard that are open to the public. Walk out the front door and there are countless trails and pathways going in every direction. There are vineyards to explore, forests to enter, and an incredible varied rolling countryside all about. Great for the serious hiker/walker, but also fun for children to explore.

Shopping –
The village of Loubès Bernac is 3km away, with its own small market for necessities and a boulangerie dépôt. There is a lovely small restaurant, church, and post office.

Pineuilh, 10 minutes away by car, has an E. Leclerc supermarché for anything you might need.

The weekly market day is Saturday in Sainte Foy la Grande (11km), Monday in Duras (11km) and Thursday in Eymet (13km). In fact, there are weekly markets within easy driving distance every day of the week, including Sunday.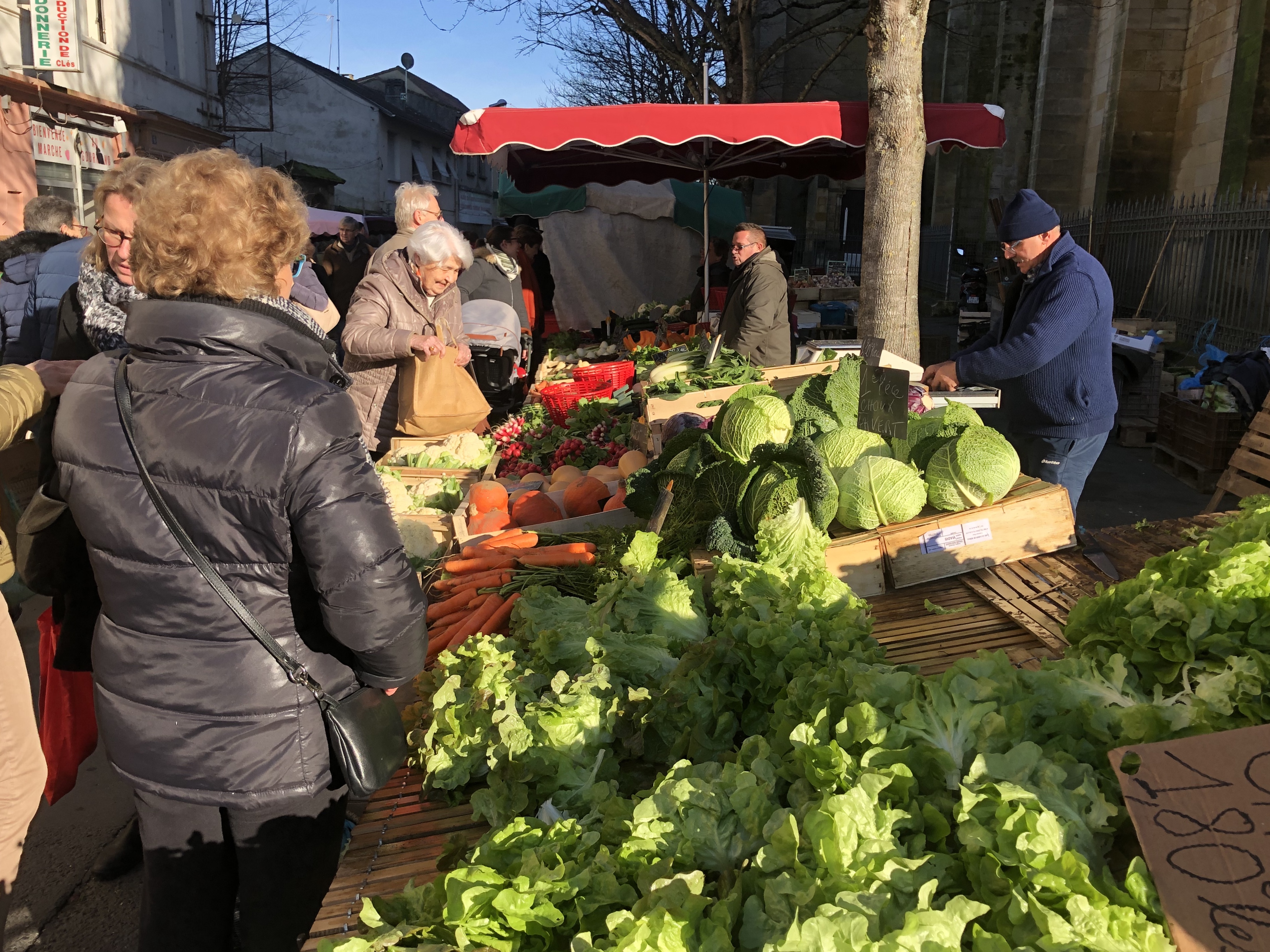 Winter market day in Bergerac.
Each village comes alive with many vendors selling all manner of food, clothes and housewares, not to mention the village shops which are all open on market day.
Night Markets - During the summer months, the region's villages sponsor night markets. Local food producers set up their wares and their cooking surfaces, offering a great number of local delicacies. There is a night market in a different village each night. Many have live music and dancing into the wee hours.
Wineries – There are numerous wineries close by in the Bordeaux, Bergereac and Duras appelations.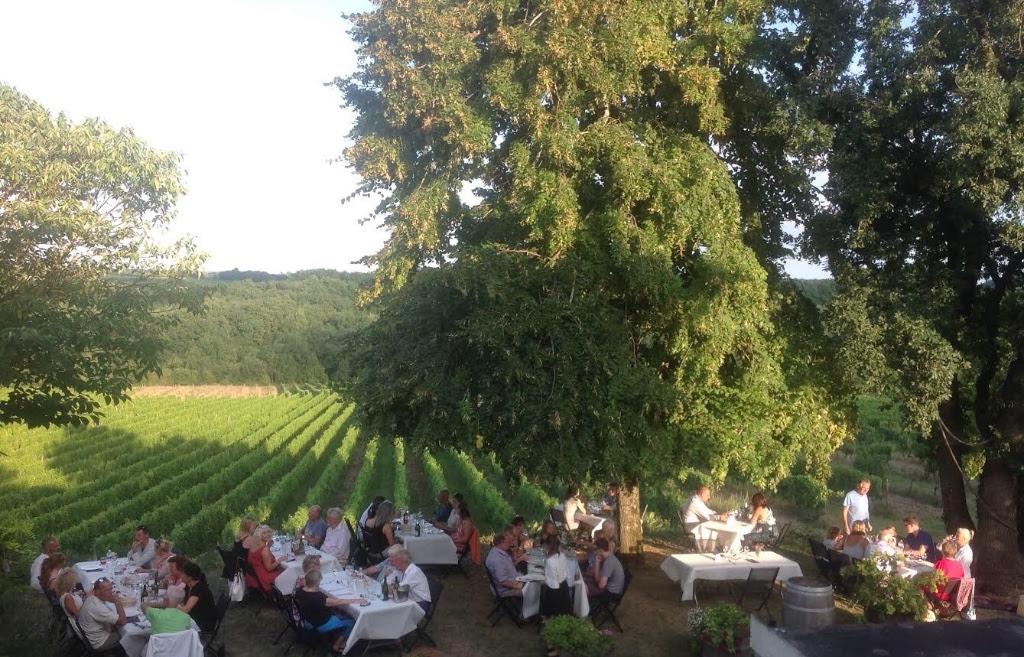 Tours and tasting sessions can be organized. Many wineries have special evening degustation dinners where they showcase their wines with fabulous dinners catered by local producteurs under the stars, many times with local music always with great fun. In early October, several local wineries organize hand picking of the grapes, a truly memorable occasion!

Bicycling – The great thing about our location is that we are on a quiet country lane far from traffic. It is possible to get on a bike and go many kilometres in any direction and see few if any motorized vehicles. Around every corner, over every hill is beautiful countryside, a feast for the eyes. We have created bike routes for all levels of cyclists, from families with small children to the serious road biker. Many different styles of bicycles are available for rent from a local outfitter, and we would be glad to help organize delivery.

Golf – The world famous Château des Vigiers Golf Course is just a few minutes from Maison La Busaneth. Château des Vigiers forms the centre-piece of a spectacular 27-hole golf course. The course opened in 1992 and was designed by Donald Steel, who is considered one of the very best "natural" golf course architects. Arranged in three 9-hole loops, giving three 18-hole combinations, the golf course was rated in the top ten courses in South West France. Other golf facilities include a 6-hole academy course, a covered driving range, practice greens and bunkers as well as resident golf Professionals, making Vigiers an ideal place to begin or improve your game.
Climbing - There are three climbing gyms (Structures Artificielles d'Escalade) in Bergerac. https://www.gralon.net/mairies-france/dordogne/equipements-sportifs-structure-artificielle-d-escalade-24037.htm
Plum Village – Forty-five years ago this Buddhist sanctuary and meditation center came into being. Plum Village is a Buddhist meditation center of the Order of Interbeing in the Dordogne, southern France. It was founded by two Vietnamese monastics, Thích Nhất Hạnh and Chân Không, in 1982. Plum Village has three campuses, the nearest of which is in Thenac, a five minute drive from La Busaneth. They have many meditation retreats and are open to visitors. https://plumvillage.org/

Château de Duras – A true medieval castle and XVIII century mansion with over 30 rooms, this Château is set up to help you discover the rich history of the Dukes of Duras and the various conquests of the castle over the centuries. It is very well organized, an enjoyable and educational experience. It is possible to take in the castle in the morning, followed by a leisurely lunch at La Terrasse Restaurant in Duras, making for a great outing.

Places to eat – Restaurants are generally open noon–14h00 for déjeuner and 19h00–21h00 for dinner. Lunches are particularly good values since Napoleon decreed an affordable midday meal for the working person over 100 years ago. It is possible to get 4-5 course meals with wine for less than 15 Euros!

Nearest restaurants
En Toute Simplicité is a lovely little restaurant in Loubès Bernac (3km) and is open for lunch and dinner https://www.facebook.com/restaurantentoutesimplicite/
Les Fresques at Château des Vigiers in Monestier, a Michelin star restaurant, is a true gourmand's delight. Be sure to make reservations beforehand. https://vigiers.com/fr/restaurant-etoile-michelin-dordogne.php
La Petite Auberge in Margeuron (3km) is truly a family affair. Christophe is the maître d', and his wife is cooking up delicacies in the kitchen. His two sons can be seen assisting as well. http://www.lapetiteaubergedemargueron.fr/

Famille Moutier – in Monestier (2.6km), its claim to fame is a seven course dinner with wines paired for each course, a truly fabulous way to enjoy a grand French countryside evening.https://www.famillemoutier.com/
Farther Afield

Saint Émilion (38km) is a lovely village going back to prehistoric towns, with lovely Romanesque churches and ruins stretching all along the quaint and narrow streets. As an active center of viticulture, local winery and degustation tours are available.

Bordeaux (68km) is one of the fastest growing and exciting cities in Europe. It is well worth a day trip to visit La Cité du Vin, a new interactive museum dedicated to wines from across the world, to shop along Rue St. Catherine, to have lunch in any of the many wonderful cafés that line the streets, or just to wander through the streets of this magical city. The world renowned Bordeaux Opera House is home to many arts performances and is worth a trip just to look and admire. It is an hour train ride through beautiful French countryside from Sainte Foy la Grande, with trains running once an hour for most of the day. Lost in Bordeaux is a great website for exploring what is going on in Bordeaux.

Arcachon (116km) dates back to Napoleon's reign and is considered by many to be the nicest swimming beach along France's Atlantic coast. It is dominated by Europe's largest sand dune, Dune de Pilat, nearly 3km long, 500m wide and 110m high, a true spectacle and geologic wonder.

Paris (587km) has for years considered itself the cultural capital of Europe. With the advent of the new TGV line, it is an easy and quick two hour train ride from Bordeaux for a quick overnight excursion. Booked in advance, tickets are as low as 32 Euro.